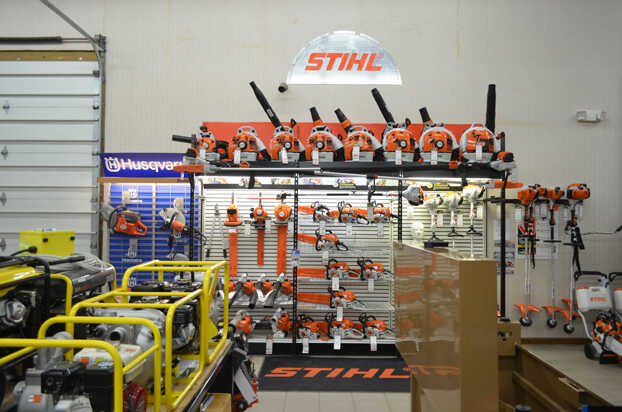 When it comes to land clearing, manicuring, woodcutting, farming and pruning, homeowners and professionals trust Stihl. AAA Supply is a premier Stihl dealer carrying an impressive variety of Stihl battery-powered, gas-powered and electric-powered equipment. Learn more about the different types of Stihl products AAA Supply has in stock to choose the right Stihl equipment for your next project. Whether you're looking for a reliable chainsaw to clear land around your house or a heavy-duty trimmer to tackle commercial landscaping projects, a Stihl tool will get the job done for years to come. AAA Supply has one of the biggest selections of STIHL gas powered tools in NW Indiana. We also stock and carry a large selection of Stihl replacement parts to keep your equipment running smoothly with little to no downtime for your business. We are an authorized local Stihl dealer. Visit the Stihl website for more information.
Stihl Equipment for Every Job
Stihl garden tools and equipment are engineered to accommodate the needs of every consumer from homeowners with small spaces to professional landscapers who maintain large yards with tons of foliage. Explore the basic differences between Stihl battery, electric and gas-powered models so you can decide which type might be best for your situation.
Stihl Battery-Powered Equipment - These Stihl products are designed for easy maneuverability and minimal maintenance. Stihl battery-powered equipment uses lithium-ion batteries to combine the benefits of high-energy and powerful performance with longevity. Their lack of cords makes it easy for you to work with complete freedom of movement and their tough, compact designs provide increased protection against mechanical stress.
Stihl Gas Powered Equipment - For jobs requiring heavy-duty performance, Stihl gas-powered equipment is made to deliver. These Stihl products are often more durable than their electric counterparts and let you take care of larger spaces without restricting mobility. Gas-powered Stihl garden tools, like lawnmowers, leaf blowers, chainsaws and hedge trimmers, can cut through the thickest grass and weeds with minimal effort.