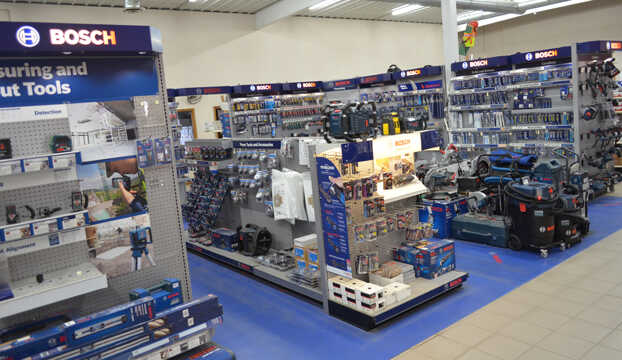 Bosch is one of the leading international manufacturers of power tools, recognized for quality engineering and design. For reliable and powerful tools, stop by our showroom and walk through our huge Bosch Tools display to find the right tool for your next project. AAA Supply is your convenient Bosch location stocking a wide range of Bosch Tools and accessories at competitive prices while providing un-matched service and value. Our commitment to you, to the trade pro, is stronger than ever. At AAA Supply, we carry an array of Bosch tools. Everything from drills, hammer drills, power saws, grinders and nailers to bits, blades, levels and more.
Bosch Cordless Power Tools - Bosch cordless tools meet all of your power needs. The cord-free design allows users to work without constraints while utilizing lithium-ion batteries to provide maximum run time. Charging the power source is a breeze with Bosch fast recharging system. The cordless power tool lineup includes cordless drills, hammer drills, screwdrivers, reciprocating saws, impact drivers, grinders, planers, rotary hammers, impact wrenches, power tool accessories, and more.
Bosch Corded Power Tools - Bosch corded power tools provide reliable tools for woodworking, electrical, demolition, and remodeling needs alike. The corded power tool collection includes oscillating multi-tools, grinders, routers, planers, sanders, drills, polishers, and more.
Bosch Power Tool Accessories - High-quality power tool accessories are required for professionals on the jobsite. The accessory lineup offers lithium-ion batteries, drill bits, router bits, tool stands, jigsaw blades, chargers, and more. Visit our showroom to find everything you need to complement your power tool.
Don't Find The Bosch Tools You Need?
Have a question about Bosch power tools? Can't find the Bosch tool you need? Want advice on which Bosch power tool is right for your particular job? Searching for other power tools and accessories? The professionals at AAA Supply are here to help. Give us a call at (219) 865-8500 today for immediate assistance. You can also visit the Bosch Tools website for more information.